Made with natural clay sourced from the rich hills of Central Kenya
Our pieces are made from ceramic clay, a naturally occurring material. Ceramic clay is durable and keeps the colors on your jewelry bright, shiny and glossy for years to come. Our dream is that ceramic jewelry can compliment a woman's natural beauty every minute, and can be a valuable heirloom to be handed down from a mother to her children.
We want to make every woman feel beautiful wearing jewelry that suits her personal style. We do this with ceramic jewelry, because it can be twisted, moulded and cast into any form imaginable. Just like a flower, every ceramic piece is unique. Every item is different from the next, and we love this uniqueness in our pieces, just like in every woman. Since ceramic also comes from natural earth, our jewelry also brings you back in touch with yourself.
It starts with creative inspiration
Our process starts with the product design, sketches, and drawings for shapes. We create a lot of inspiration mood boards on Pinterest, getting inspiration from different elements like nature, animals, flowers, plants, artists, and illustrators among others. Once we have an idea in our minds we start shaping and playing with the clay.
Mixing and shaping
It can take up to 7 days between the moment we start with our handmade processes and when our ceramic pieces are finished with their gold-plated findings. First, we start with raw clay; we need to make it softer by hand, so it is easier to work with. We create a thin clay sheet where we will be modeling all our pieces.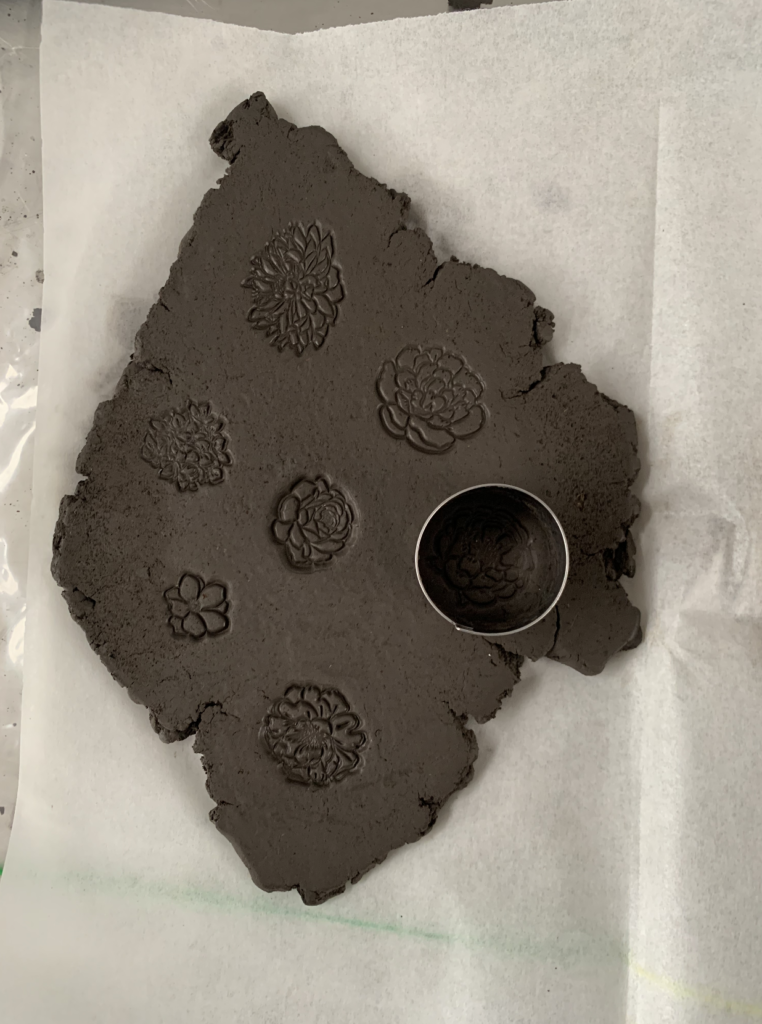 Bisque firing
Once we have our earrings pieces cut, we make sure they have a proper shape, thickness, and finishing. We wait for the pieces to dry, then they go for the first kiln session.
They are fired in a high-temperature kiln at over 1000°C in order to harden. Each kiln burn takes a day while the temperature goes up and down and we can open the kiln again. This is a slow process that makes sure the pieces' quality evens out.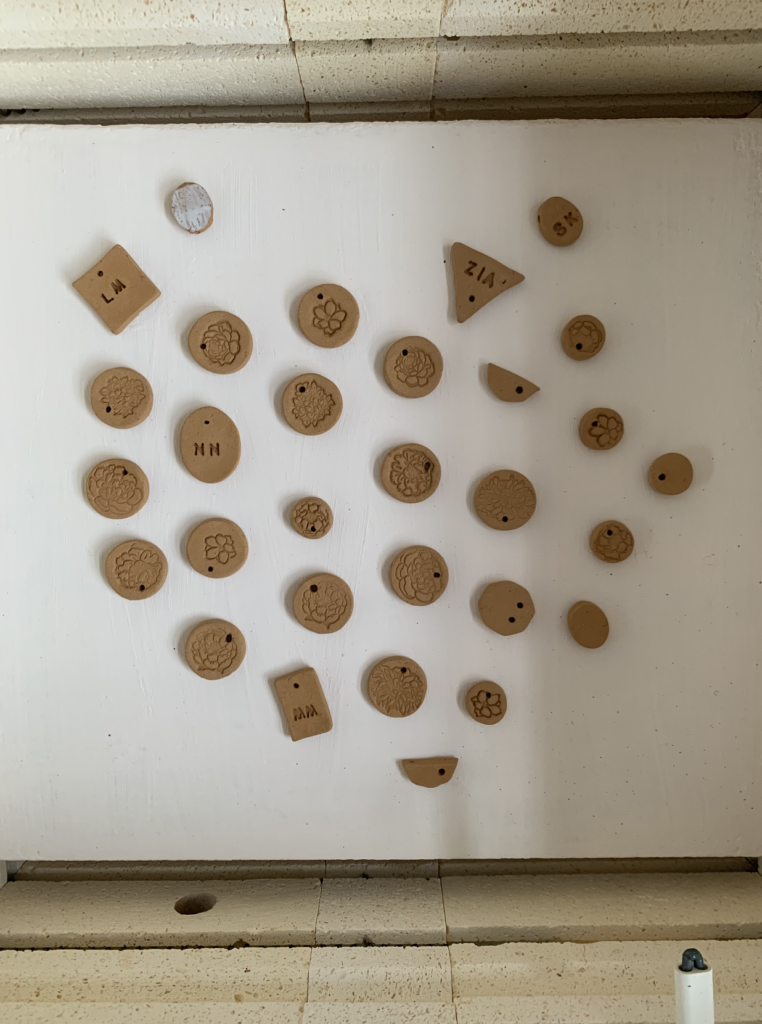 Special glazing & firing
When they are completely dry, we will paint waterproof or decorative glazes on the hardened pieces to give them colour & shine. After the glaze, they go once again to the kiln and the dried glaze is hardened in a second firing.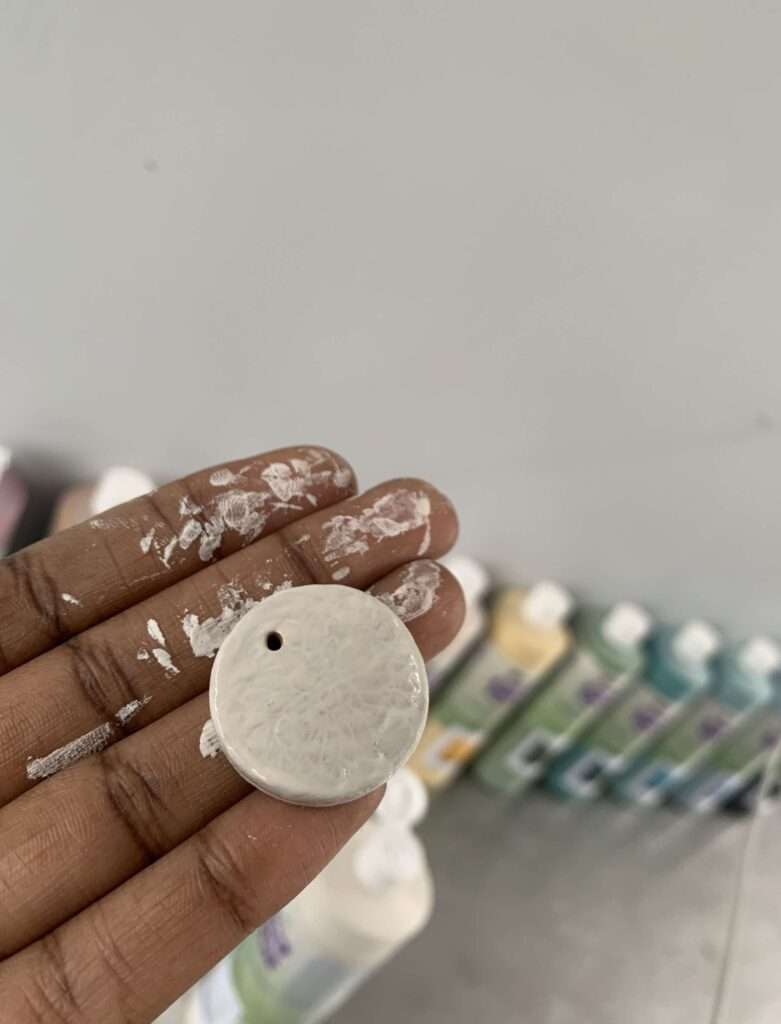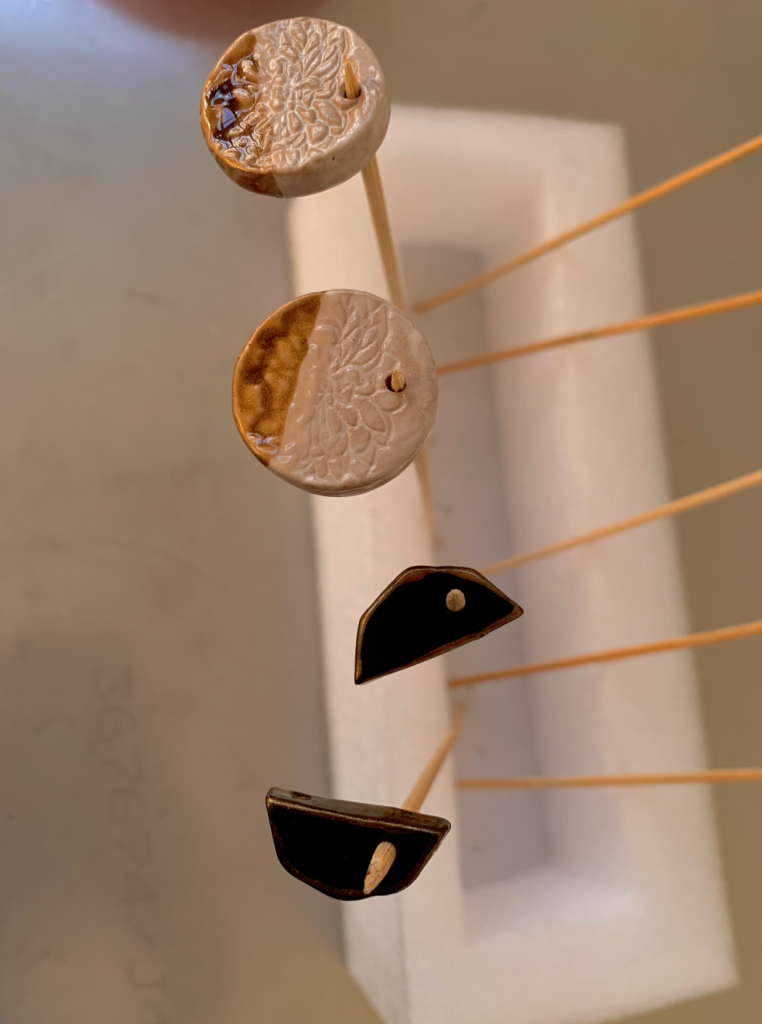 And finally, assembly
The ceramic pieces are fitted with accessories to create the final jewellery items.
Why we choose to work with natural ceramic clay